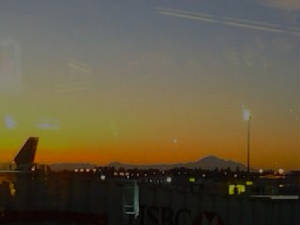 "My" volcano, Mt. Baker, from the airport Wed morning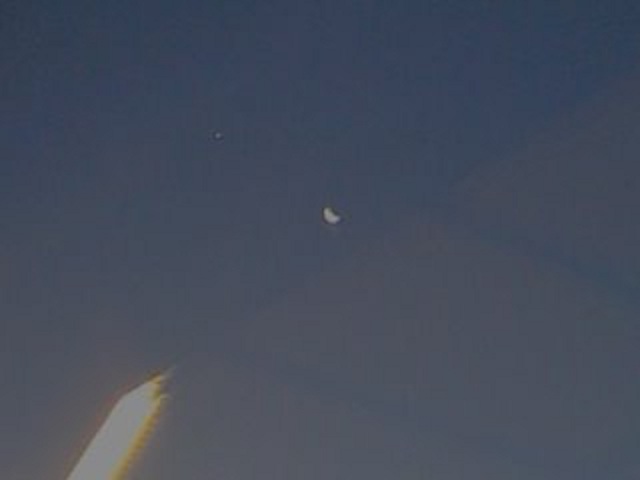 The moon, John, and Venus, from YVR.
My time in Burbank started on the Wednesday, because I wanted to have time to search out a grocery store so I could get through the stay, what with food sensitivities, yada yada. Our dear, dear, Paul B. very kindly offered to take a few of us for a run. Never mind how burned out and busy he would have been! Paul, you have my unending thanks!!!
It was nice to see so many others had arrived early, too. I can't believe it's 4 years already since the relaxicon in Calgary...it feels like yesterday that I last saw Bob Wood! It's always great to see you! And ANTHONY D!! My gawd, it's been 11 years since I last saw you at "Tampa 1"! How can that be? I'm so happy we are in constant contact online.
Wed. was probably the last decent night's sleep I had. :) When it comes to these conventions, sleep is overrated.
"The Wall"
My Wall partner-in-crime, Roy Bjellquist.
Besides re-connecting with old friends, it was wonderful to meet some of you have been attending our monthly chats which started as a lead-up to the con, but will now be ongoing (info later). Our regular "new" chat faces included Paul B, Paul S, Warren, Roy, Dave_M and we had many others who were able to make it to a few chats as well. I CANNOT SAY ENOUGH how wonderful it was to meet you in person!

Some days were so busy that I just couldn't do it all and had to bail out of a few things. There are a few panels I'm sorry I missed...but I'm hopeful I'll see them next time! :)

Likewise some people I just didn't get to spend enought time with!! :/ Where did the time go? I think the next con needs to be a few days longer!! :)
In spite of this not being in focus, I just HAD to
include it: it was img1999 on my camera!
I apologize for the quality of the photos...many
were lost due to bad exposures. I miss my old
Canon SLR...time to upgrade to a serious digital camera.
The Dealers' Room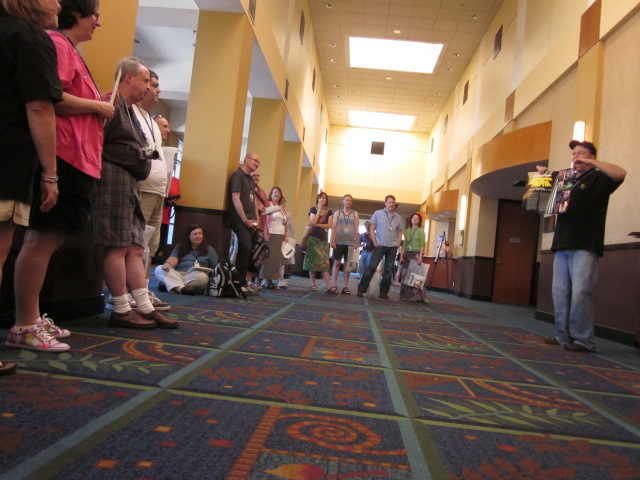 Auction in the hall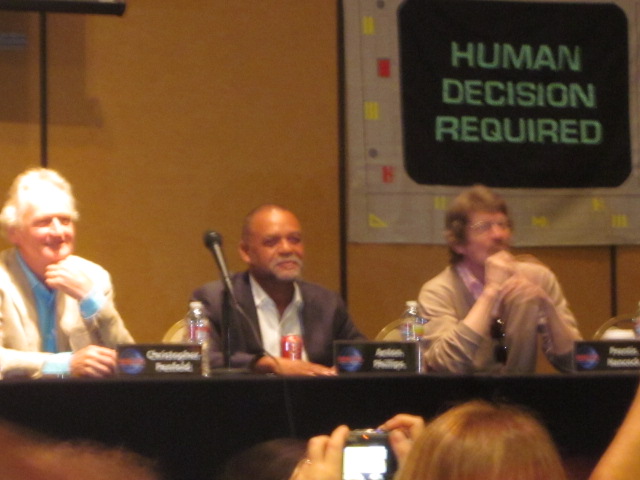 Christopher Penfold, Anton Phillips, Prentis Hancock
Judy Geeson's Panel


Judy Geeson, Chris Penfold



Nick, Judy, Chris, Anton, Prentis


Nick Tate

Nick Tate, was as always, a delightful guest at our con. It was great fun to have his son join us for an evening, too!


The ever-handsome Anton Phillips!



Rosie Badgett with Anton

It was so nice to have Anton join us at another convention! Thank you, Anton, for being so giving of your time with the fans.
Martin Landau's Panel
After hearing that Martin Landau had cancelled, it was a great surprise to have him join us after all!



Chris, Nick, Martin, Prentis
There are alot of photos I wish I'd got, including of the

Malice

folks. I really, really enjoyed their episode which was shown at the convention! They have graciously allowed me to include their own photo here.

.



Mark Hyde, Brittany Martz, Philip J. Cook


Robert Wood

I really enjoyed your discussion, Robert!
Barbara Bain's Panel
The First Lady of the Moonbase!!

 
Old Friends


Anthony and James



Jeffrey and Patrick



Old friends and new

Back row: Mike, Ken, David

Front row: Bob, Roy, Kevin, David, Andy



Total Concentration

Mike Jones and I joined our first seance (don't ask) at Breakaway in '99. We've waited a long time do it again. ;)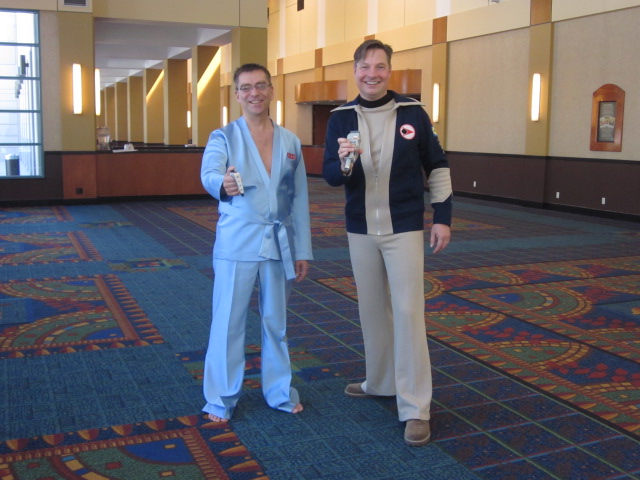 A couple of our Alphan Menfolk, Warren and Robert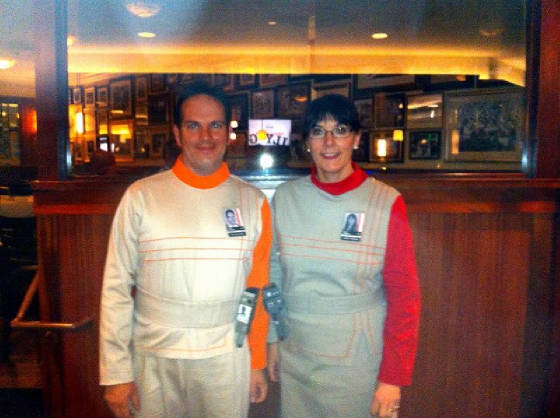 Roy Bjellquist and me
Photo shamelssly stolen from Ken Scott. :) I wish I'd taken more photos in general, but I got only one of the dance, and it wasn't so good! I hope someone will be posting more soon.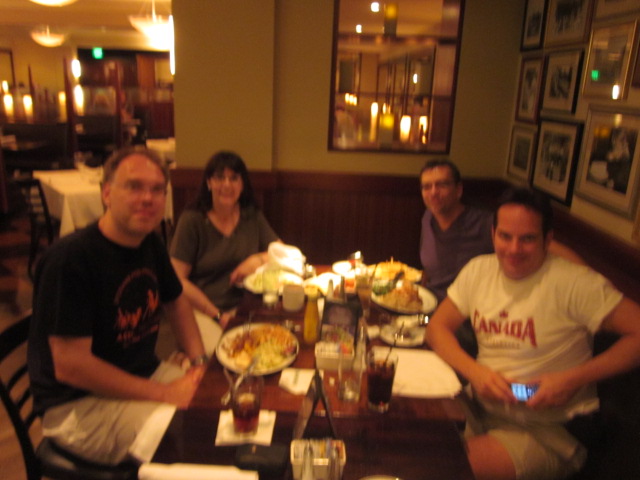 Monday, at breakfast: Artur, Linda, Warren, Roy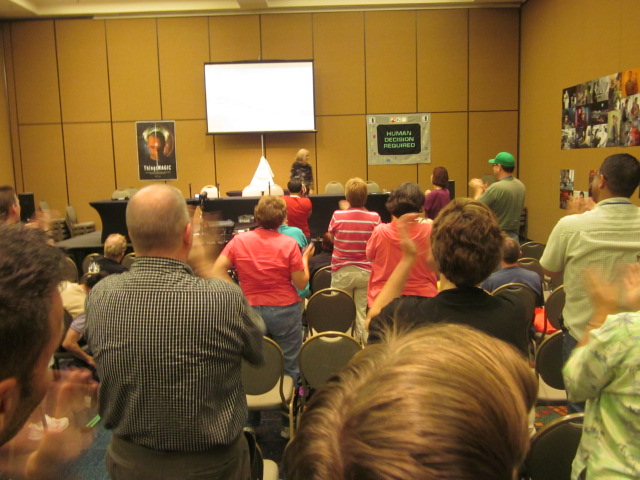 Rosie kicks off the closing ceremony
And then the final moments were upon us. A good con is always a deeply emotional thing. Several times throughout I would shut my eyes and think, "this is part of my ongoing Alphan story" and get really choked up. Closing ceremonies was one of those moments.
Alot of you know by now (I hope!) how much you mean to me. These cons are truly bigger than the show - as we know well, it's about the friendships forged. There are so many new people I finally got to meet face-to-face after knowing your names from the Yahoo groups and/or from Facebook and everyone was, without fail, a sweetheart! Why aren't you all living in Vancouver?? lol
.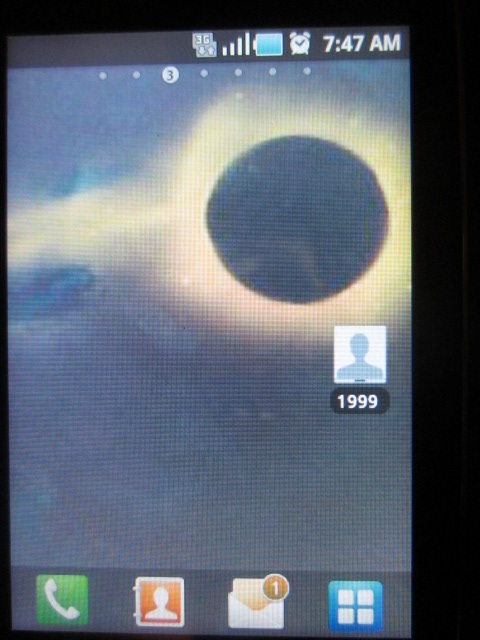 The Mysterious Unknown Force (MUF) was messing with me all weekend. Weirdest event was this "1999" icon suddenly appearing on my cell phone! What's THAT all about?? lol Bob Lyons tells me it's a contact icon. What, I've been given a direct line?
(For the record, that photo is the Black Sun I painted on my nightsky ceiling). :)
======================================================================
post reminders on Facebook.
This Sunday (Sept 23) we'll be doing an additional "Post Con Depression Chat". lol Do come...