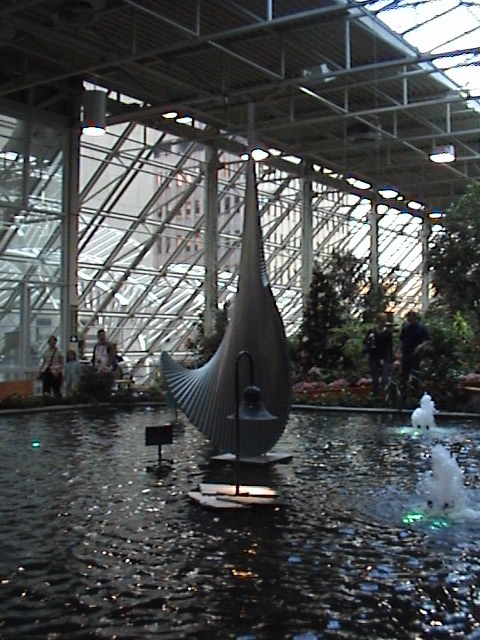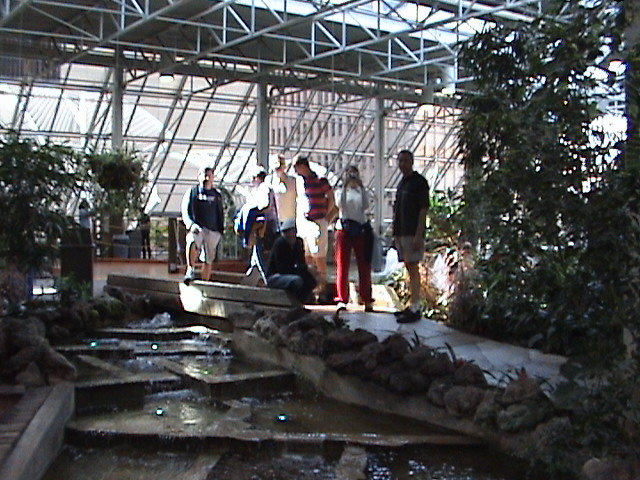 Above: Not sure who everyone is, because of the backlight! I think we have: Bill, Unknown Alphan, Bob, Terry, in the hat must be Ryan :), Arlette, and I think that's Richard.






Above: some of us thought those turtles were one of the many bronze sculptures around the Gardens - until they moved!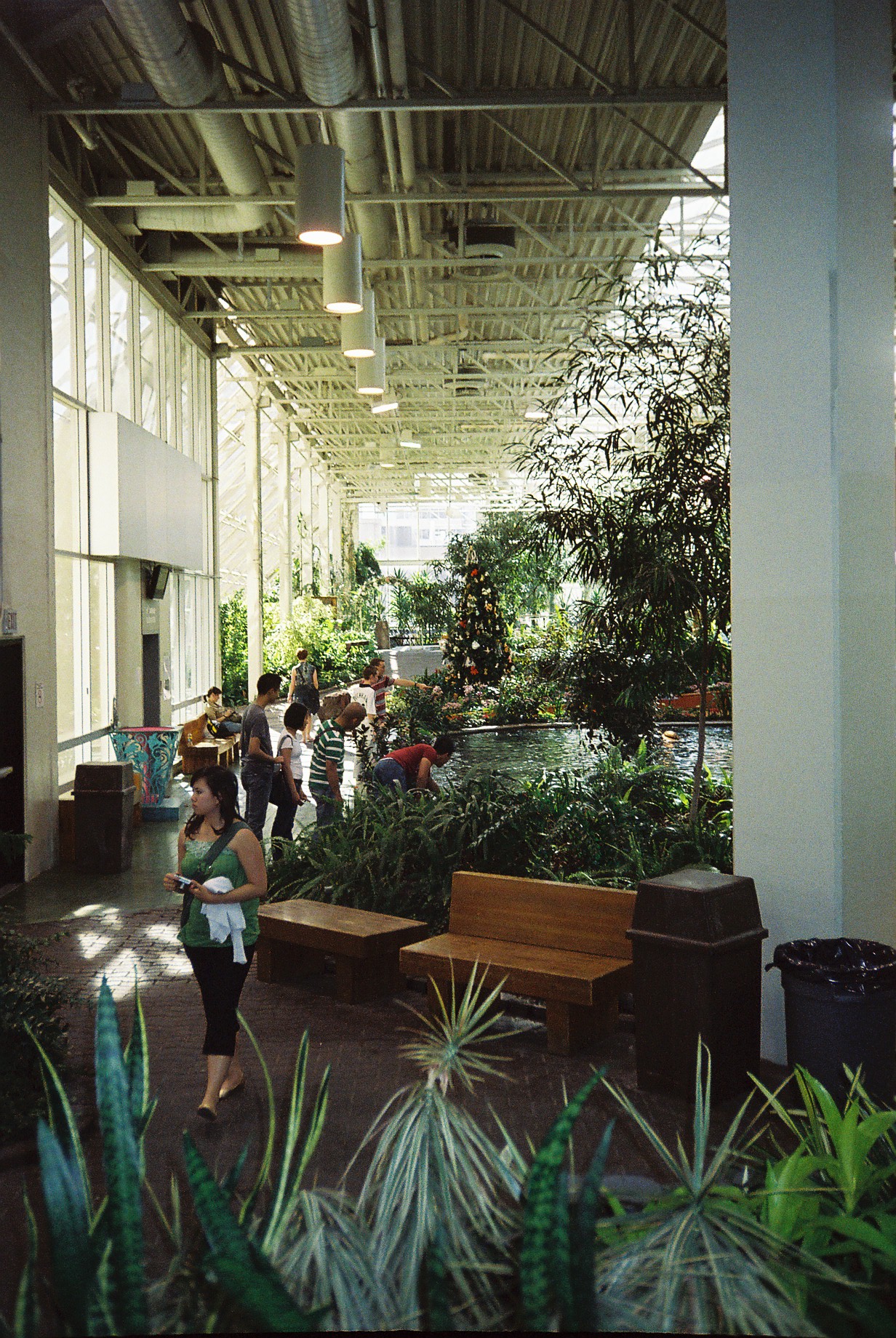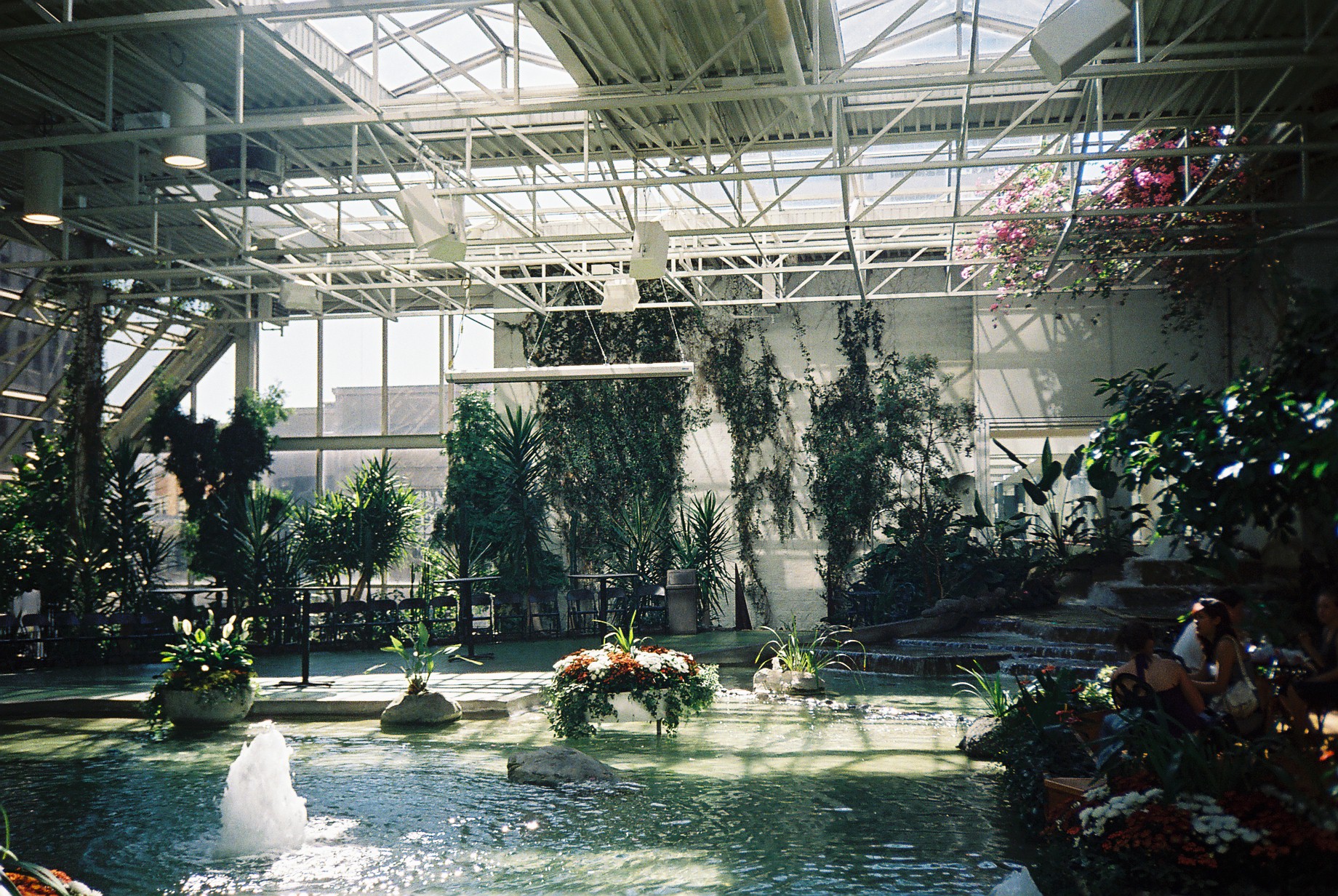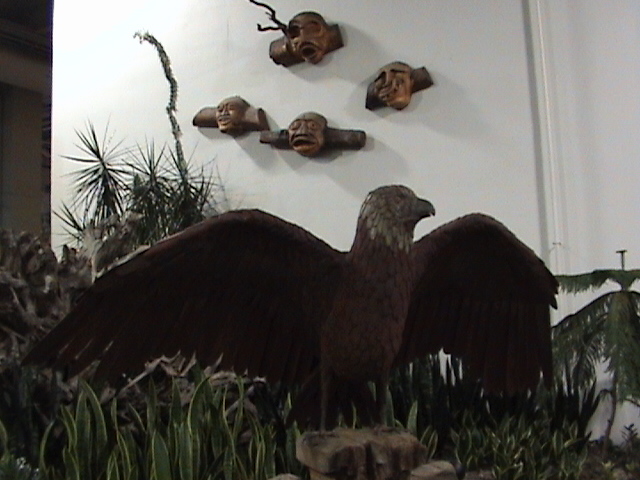 We also stopped at the gallery where Robert displays his works. Beautiful!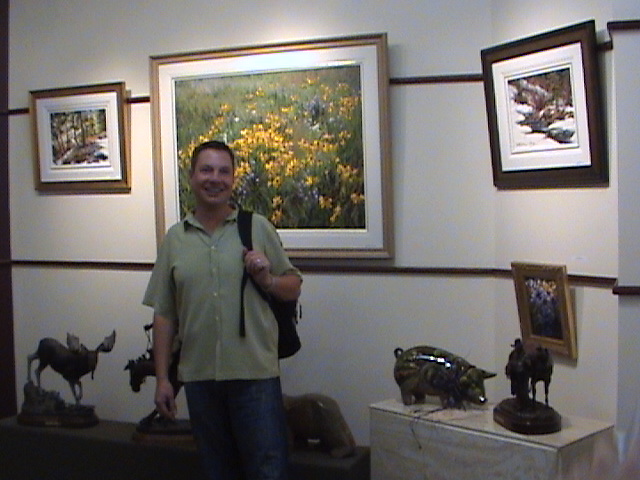 We went to Prince's Island Park where by this time the thunder clouds had moved in. It got too cold so I waited while some of the gang went ahead. Well I waited…then the winds kicked up, and eventually I headed back to the complex (can't remember the name) and took shelter for a bit. I didn't realize the gang had sidetracked for lunch so I gave up and headed back to the hotel, but got turned around and was not going the correct route! I got there in the end, thanks to a timely turn-of-the-head, just as I was beginning to panic!

By that time the heavens had opened and the winds kicked up. Thankfully I'd actually brought my pocket umbrella, but that was meant for the SUN!! lol The mini umbrella didn't stand up to the winds, so I was soaked (and in shorts) by the time I got back to the hotel.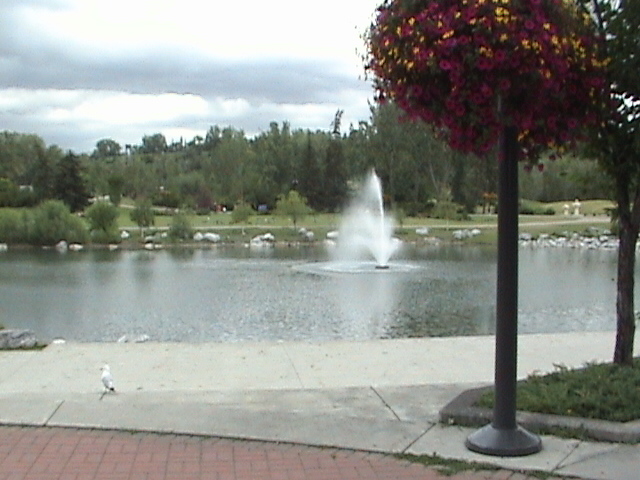 After a jump in the shower to warm up, I met David and Ken for a yummy meal in the hotel with Janet and Arlette. HOW COOL that we still get new faces along to the cons??!! We even got to meet the elusive Mouser after all these cons!! That was a great surprise!! Richard, too, who presented Eric's videos! Arlette, you're such a dear! I would love to see anyone's footage of Arlette talking to Nick Tate! How did she stay vertical with all that swooning? It was nice to see you have so much fun at your first con! And Janet! What a DYNAMO!!! You're a hoot!

Since the schedule became a bit improvised, I'm a tad mixed up about which days some things happened, and which day the different presentations of Eric's enhancements took place. Richard did the presentations and led the discussions, and did a GRAND job! Didn't get much of a chance to chat with the fella from Niagara Falls, alas. We look forward to more from Eric! Don't forget to check: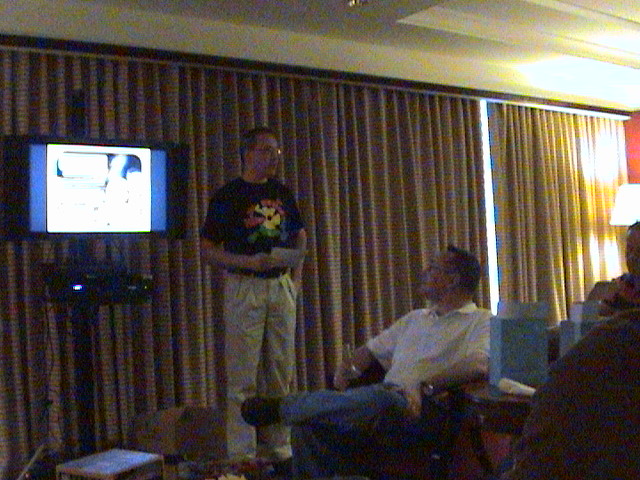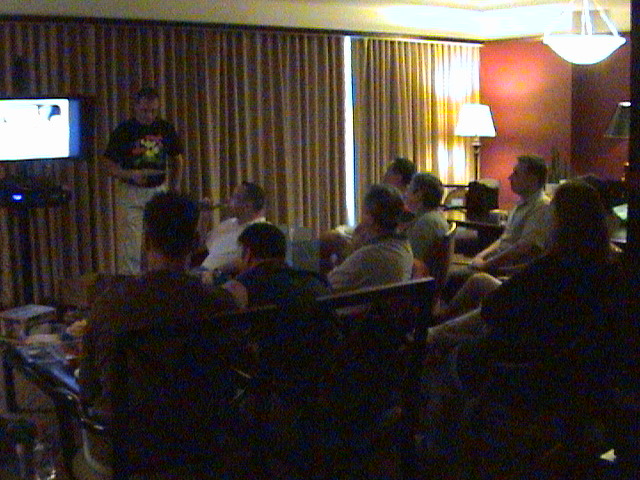 SATURDAY

On Saturday the gang headed off to Banff. I'd been there a number of years ago, and I felt that since the Alphans would be on an exploratory trip, that I'd mind the Base and relax. As Kenny said, "you can do that ANY time!" A fair argument, but no, actually I can't!! Being self-employed, I often go for months without a day off, and just like so many at-home vacations, that just translates to catching up on all the work around the house that one puts off when working! So a day away with no office work/housework to do was HEAVEN!! It ended up a bit busier than I'd hoped, but still, a chance to put my feet up for a bit.

When the Alphans returned and the pizzas arrived, I couldn't help notice they were "Nick's"! How appropriate since we were talking to the man himself! I also couldn't help notice that they were not only Nick's, but they were Nick's "Thick & Juicy"!! I'm sorry, that was just too much to take without letting a lewd comment slip out!!!

I found a lot of the weekend very emotional: our loss of Johnny and Barry; a dear friend of mine passed away not long ago, far too young; being together again with my extended Alphan family; getting to see face-to-face some of the guys I chat with online, David, Ken, and Ryan (real shame Anthony, James, and Mike couldn't make it!). Hubby will say, "are you chatting with your boys tonight?" They are very dear to me. It felt like just the week before that I'd seen you all, when it had been years. I miss you!!

Sorry, Bob, for cryin' on your shoulder and getting sniffly on you when you were wearing your spankin' uniform and all! Now THERE'S a Walter Raleigh for ya!!! Thanks for the shoulder! You're very kind and a true gentleman!

Speaking of Walter…


Disclaimer: I apologize in advance for the quality of the videos. I've had this camera along time and it was just too big a pain to get working, so I put it off till just before the con. It was one big experiment!  You might want to take your sea-sickness tablets before watching any!

I hope Joe and Mrs. Joe DO move to Canada! And it HAS to be Vancouver, of course! If nothing else, I'm making you two honourary West Coasters!! Funny, because I'm always thinking Lindsay is from Seattle after all these years, even though I know she's not. You guys are great!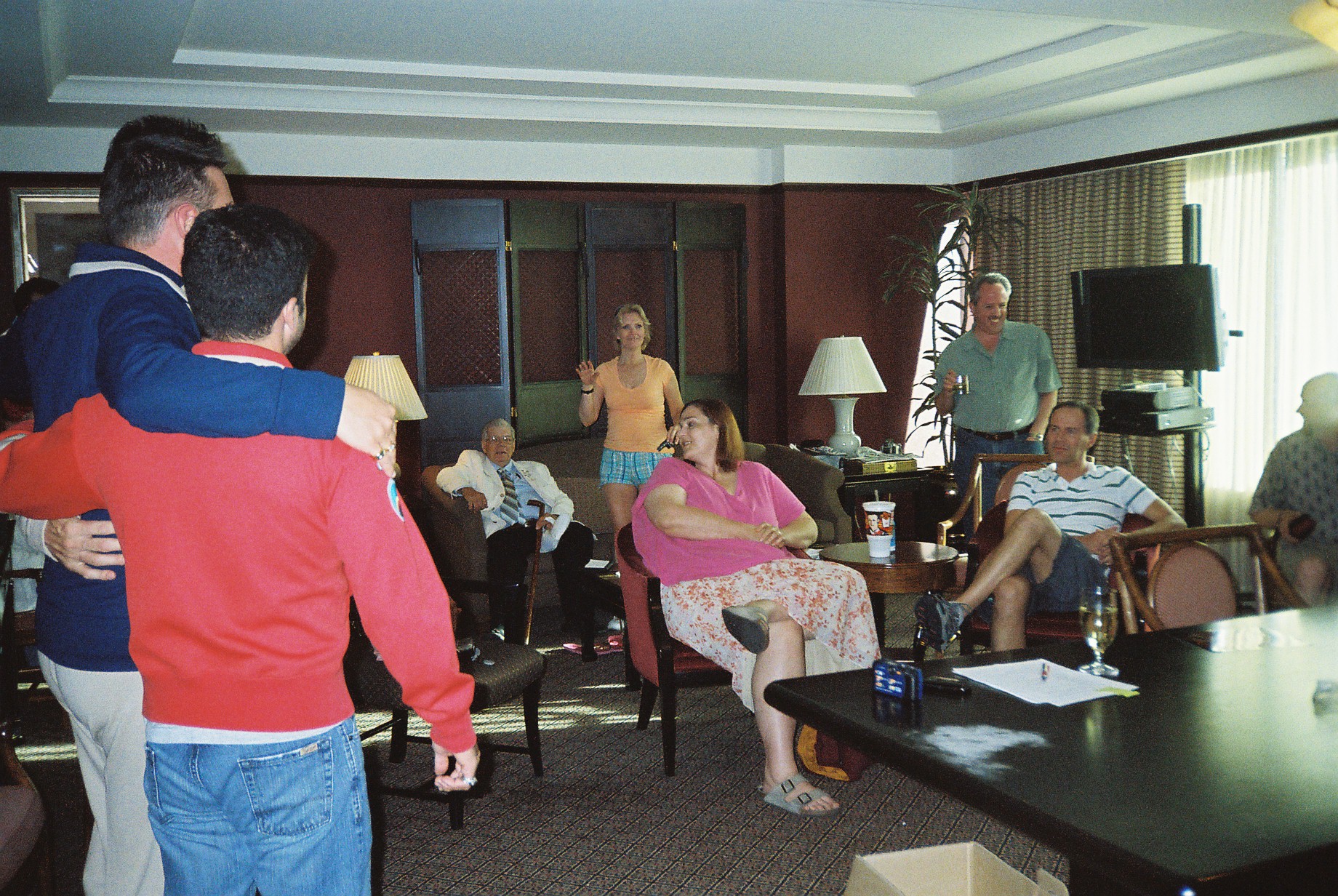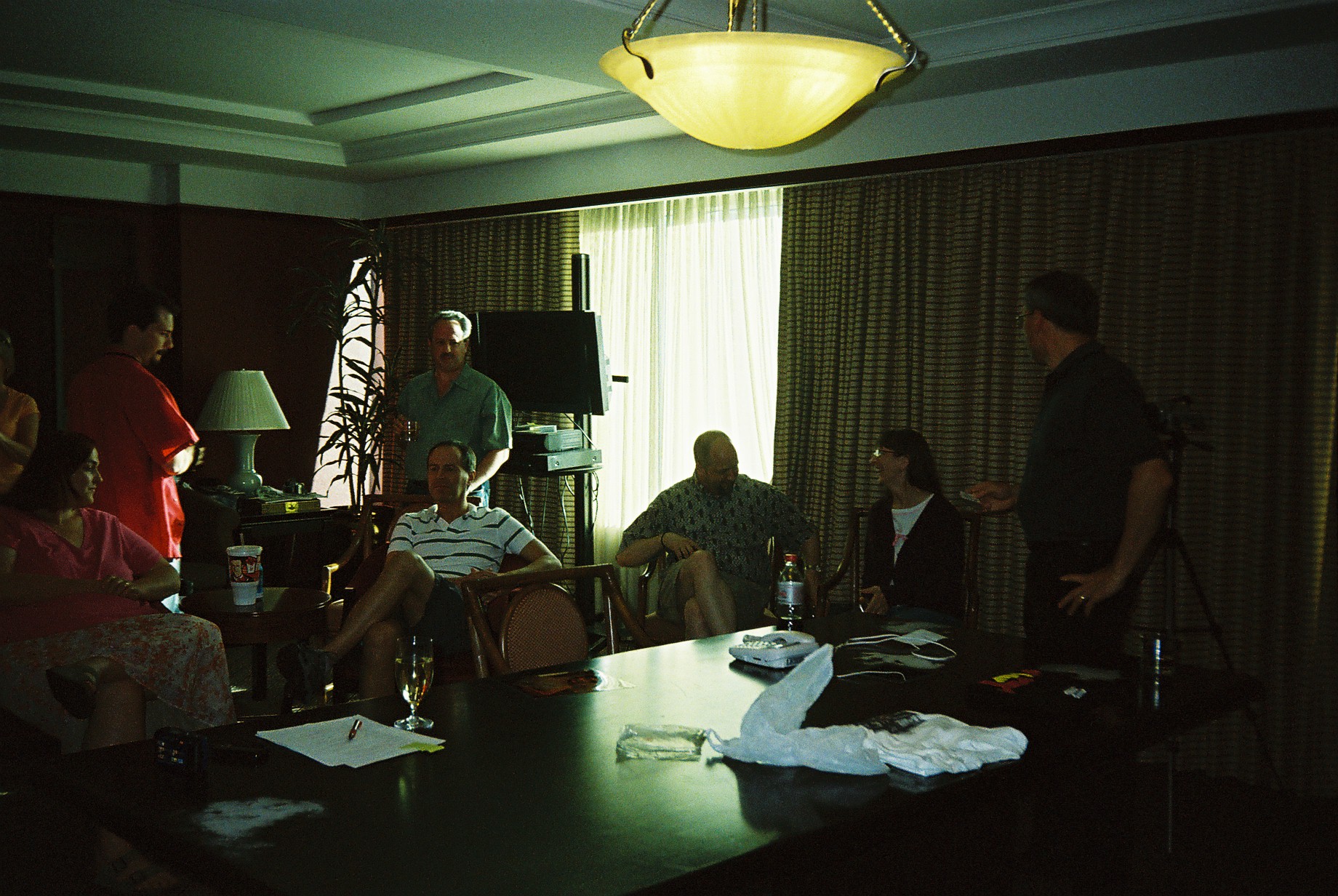 SUNDAY

Sunday was the big day of the auction.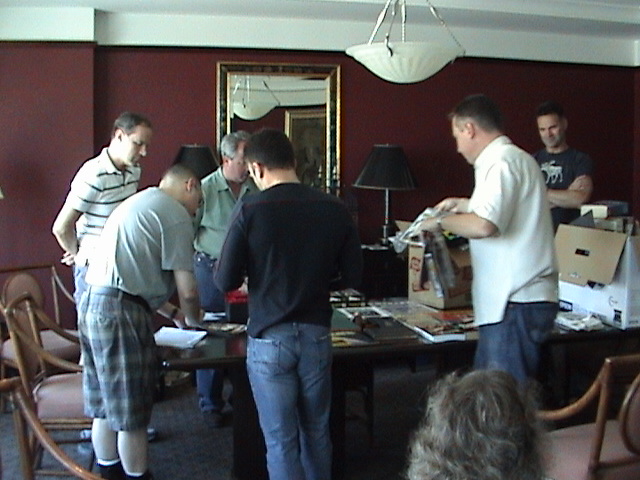 Checking out the goods: Terry, Ken, David, Ryan, Bob, Eston


Lots 'o goodies to buy! I'm not quite sure just HOW the auction took all day, considering Janet bought up everything!!! lol Shoulda been over in a snap!! The one thing I truly coveted was the gold Eagle. I'm not a collector, but as I said to a couple of the guys, "I don't buy gold, and I don't collect Eagles, but a Golden Eagle is an altogether different animal!"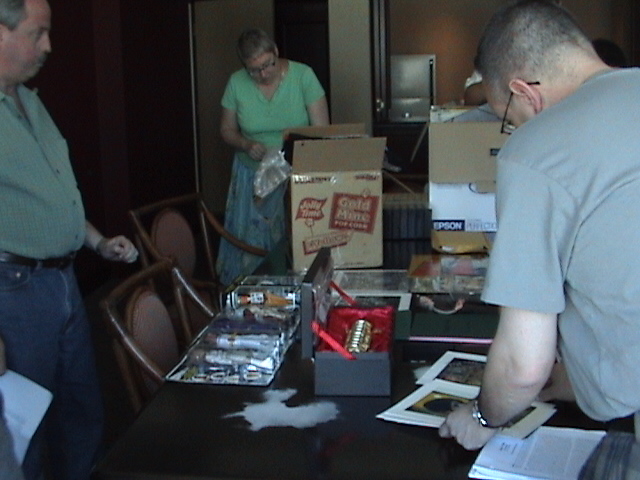 David, Sandra, scorched pizza table, the coveted object, and Ken, also much coveted! :o)



The precious went to my "neighbour" Terry! Or he went to it, I'm not sure which (kind of like an Alphan to something that glitters/glistens/glisters?) ;) We have to do another shopping excursion in Vancouver for '99 books, Terry!

Speaking of neighbours, it was so good to see you gain, Tony! Funny, I never run into anyone I know in this town, but a couple of years ago I ran into Tony at the parade! We really must do a West Coast Alphans meet-up sometime! Unrelated, but not entirely…I never run into anyone I know in this town. But during the Portland '03 con, don't we all accompany Barry to sign the pillar in Powell's, and who's in the store but a friend of ours from Vanc!! Never mind! :o)

Later that evening we got to talk to Prentis and Zenia on the phone! Man, you take one cutie-pie like Zenia, and another cutie-pie like Ryan and the sweetness factor is palpable!!! I'm sure one of the infamous lines from the con is Ryan telling Zenia she's a sugar plum!!! Oh my GOSH, the cuteness!!



I can't remember now what day we did the script reading. OMG, what a riot!!! I'm pretty sure it wasn't meant to cause such levity, but the actors were hilarious -mostly inappropriately- (*coughdavidcough!*) It was a lot of fun and an interesting thing for Eston to share with us. ESTON, you look SOOO distinguished as the narrator!!!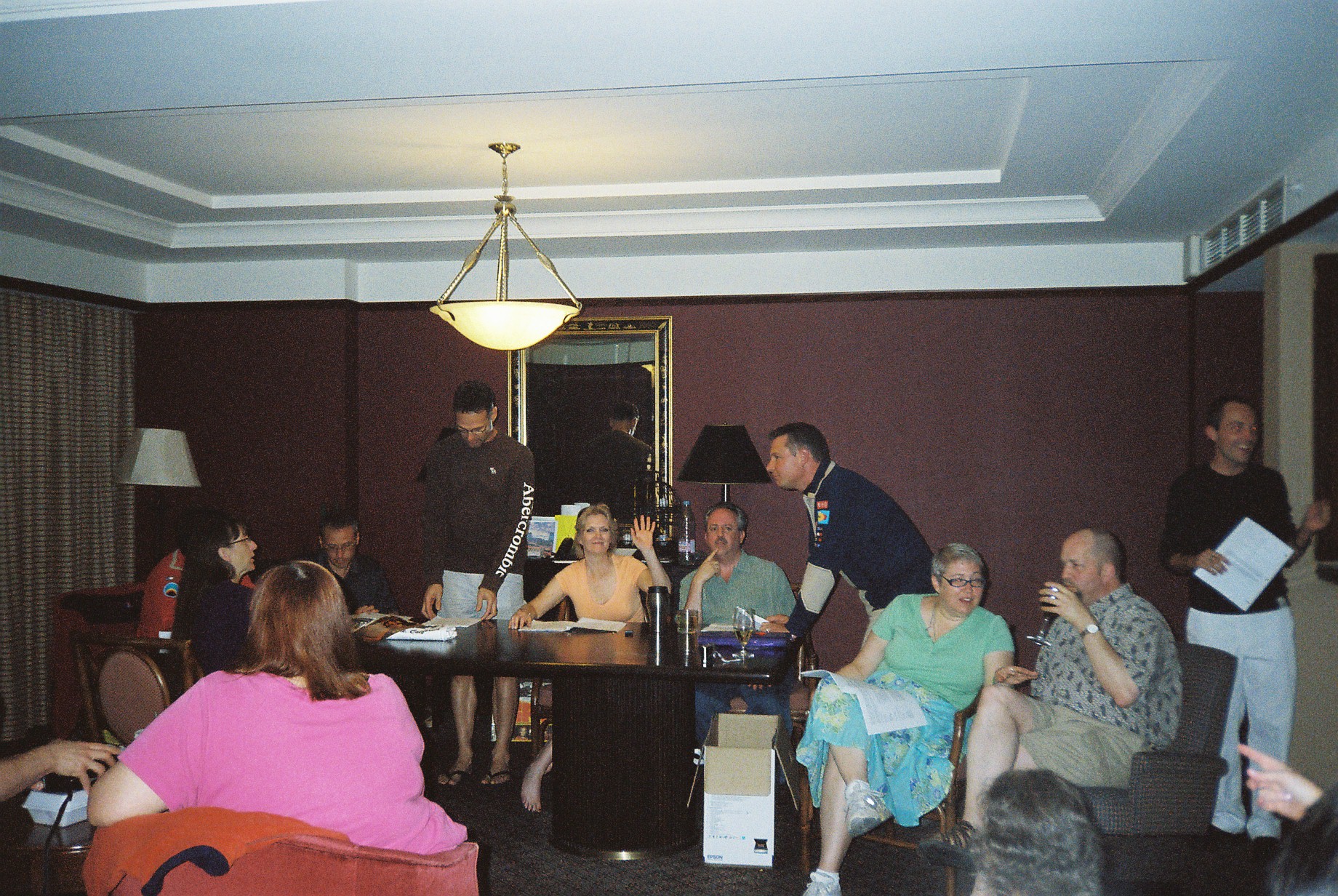 The Players: Arlette, Richard, Eston, Janet, David, Bob, Sandra, Tony, and Ryan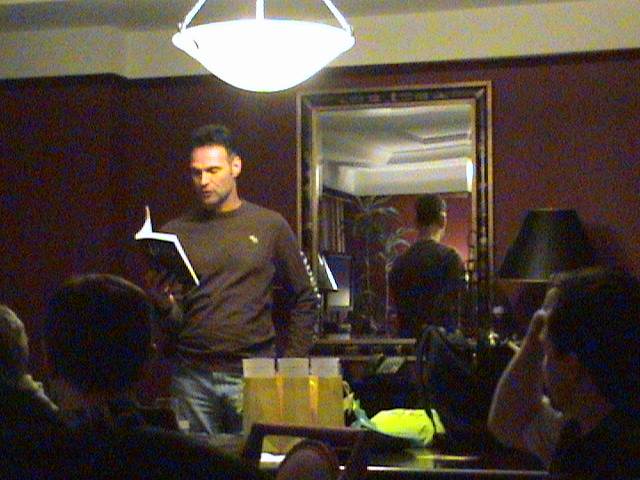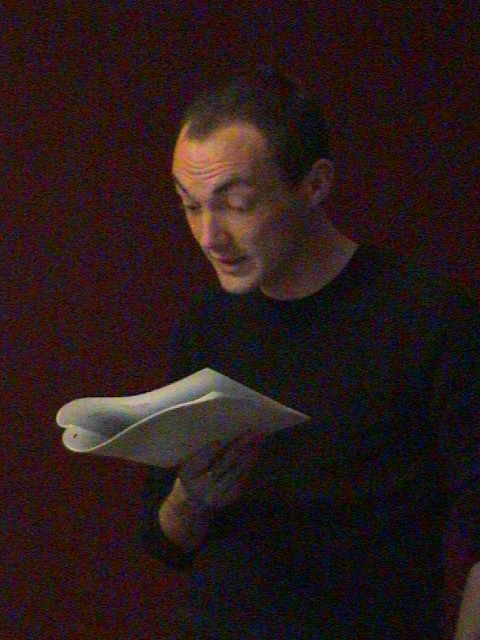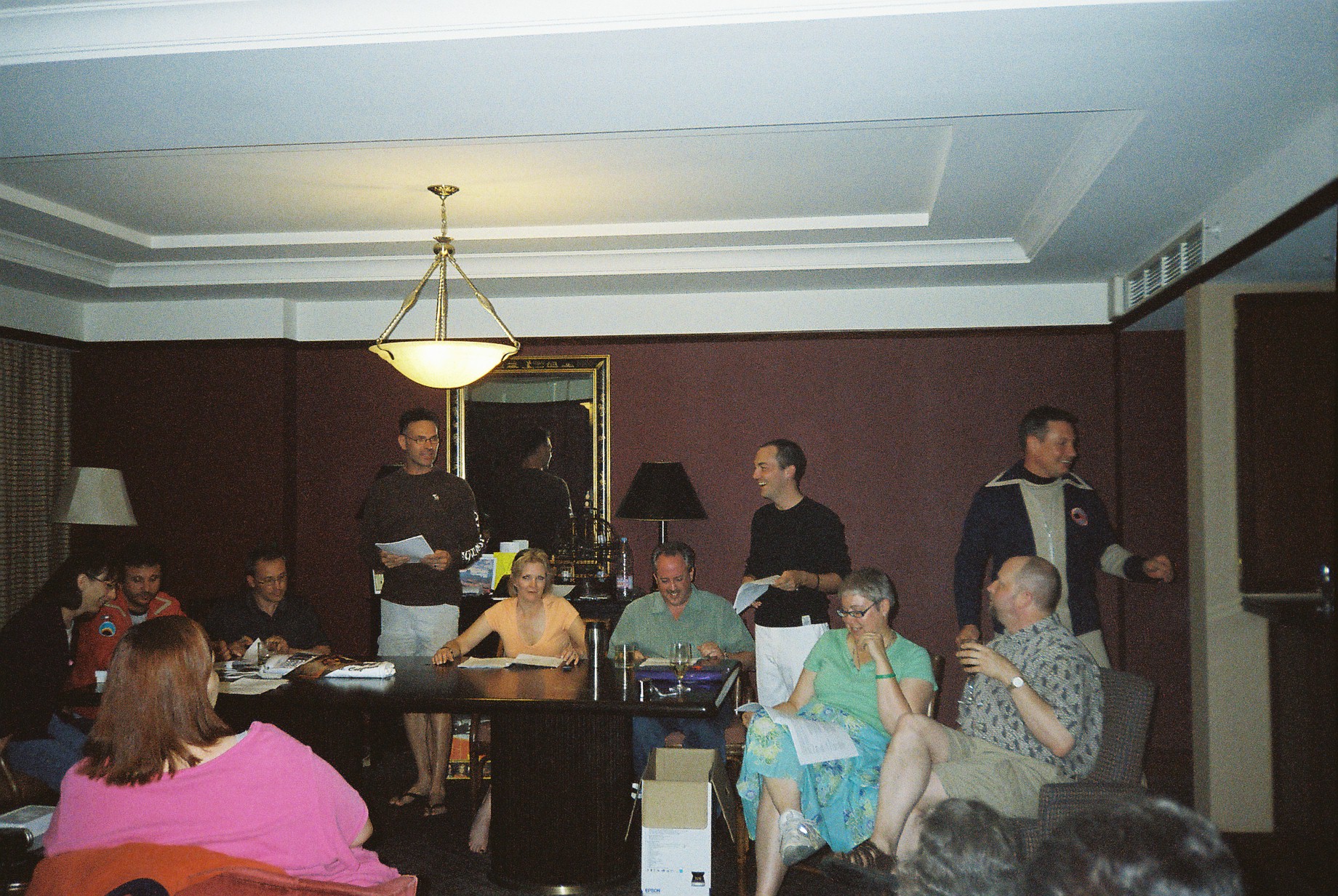 More Alphans: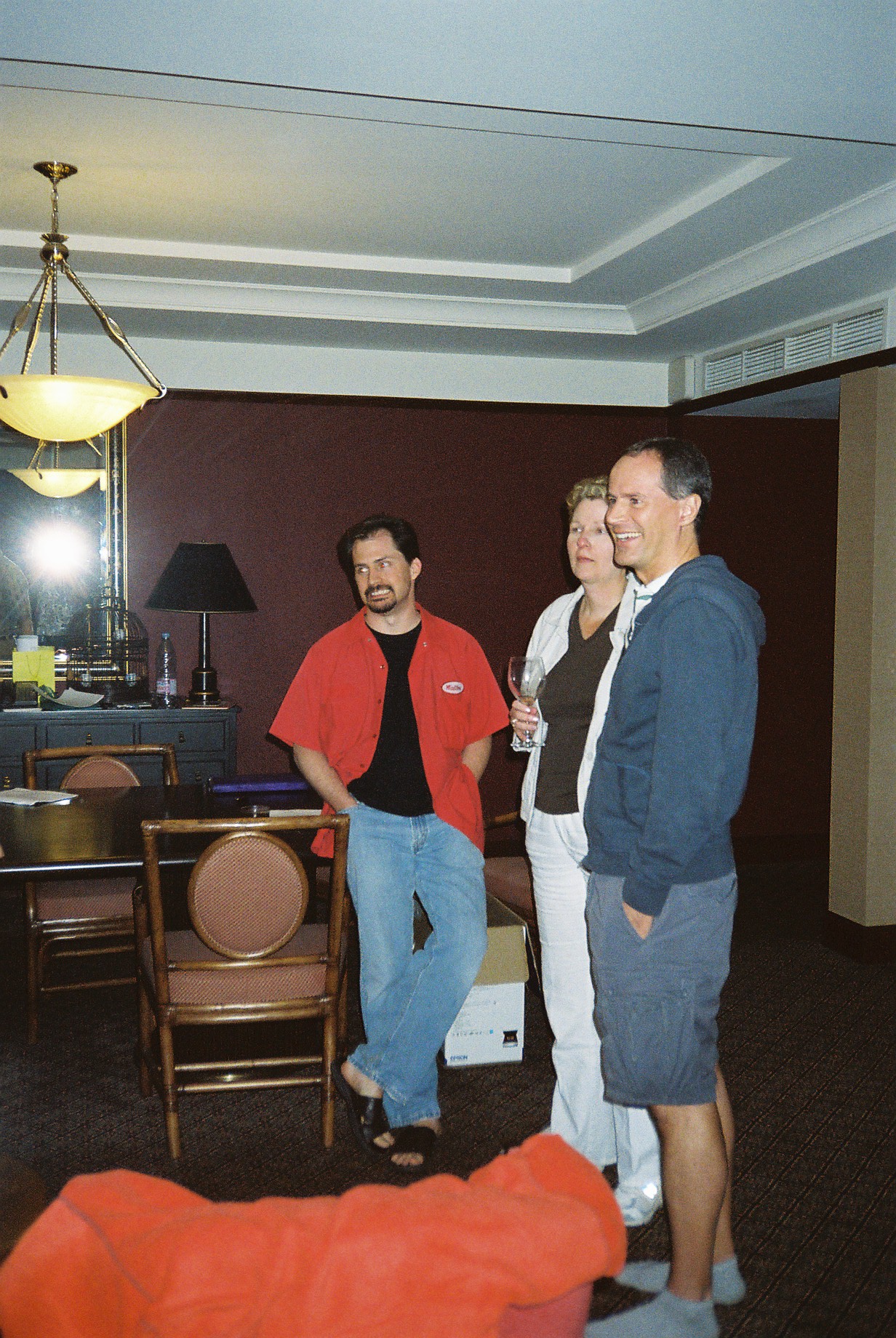 Joe, Charlene, and Terry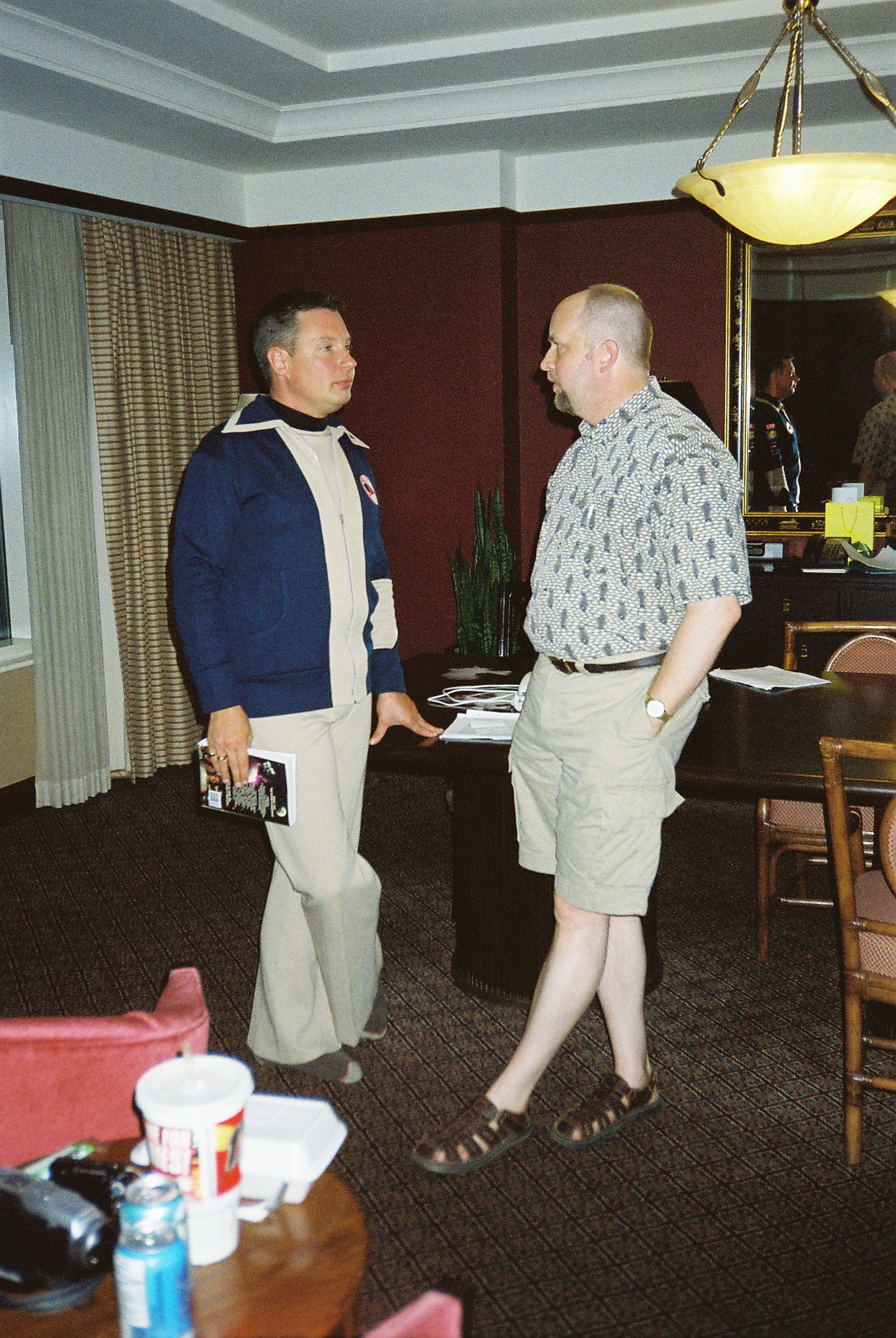 Bob and Tony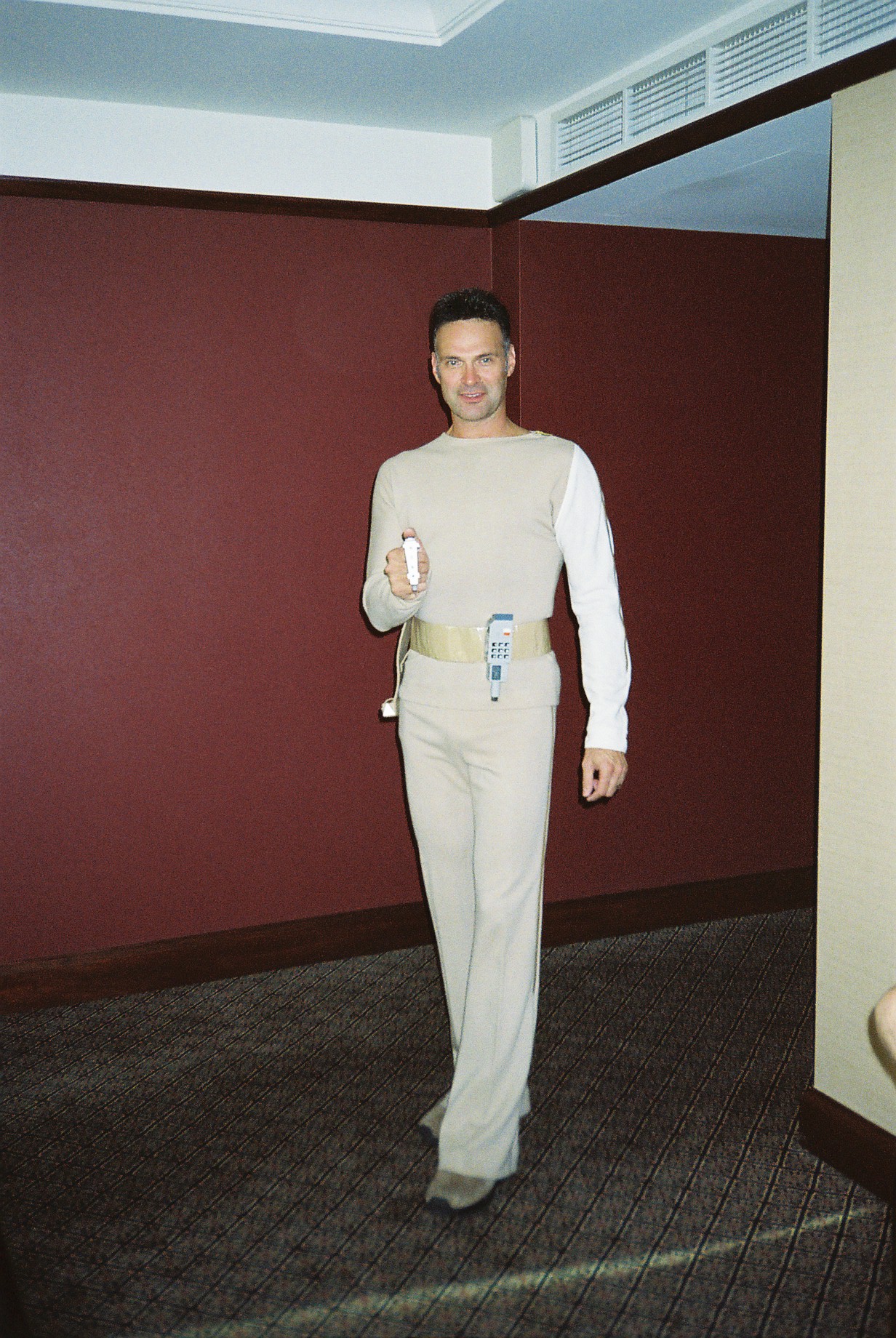 Eston


It was a fantastic time, and I'm so glad I went. I did a lot of pre-con whining about the impediments, but from now on, DAMN the impediments!! It means too much to me to be able to have a chance to meet with the gang. I'm saving up NOW for the future con, be it in Texas or Florida! From now on I aim to be at every con!!
If I had any regret, it's not watching more episodes with y'all! Sure, I know, we've all seen them a million times, and we've seen some WITH each other, but it's always more fun together!!! :) That said, I had too much fun to have missed it overly much.

Was awfully sorry Anthony couldn't be there. Alot of you will know him as moderator of a couple of Yahoo Groups. Here's the gang at breakfast during Operation Exodus, saying a big hello to Anthony! :)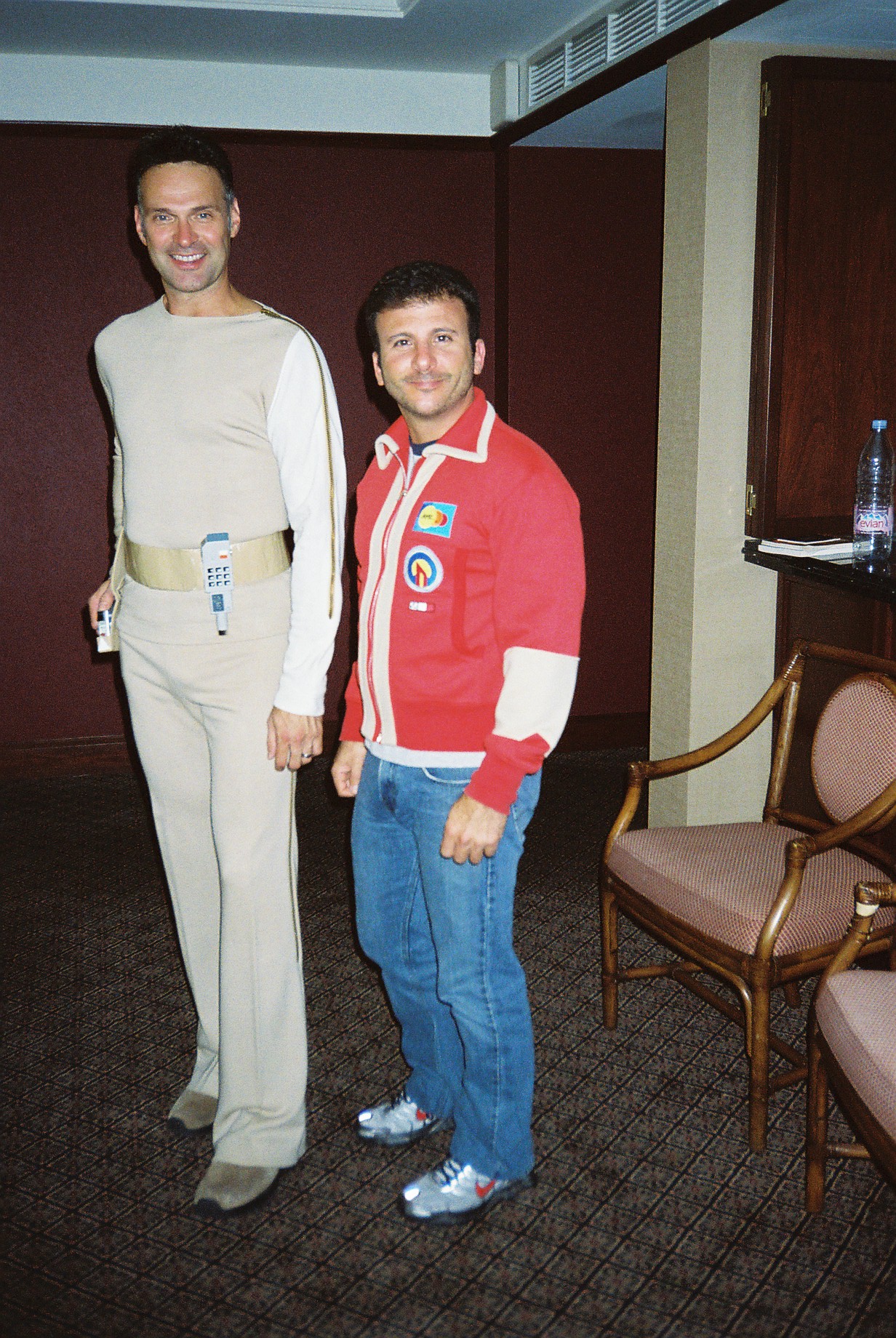 Eston and Bill